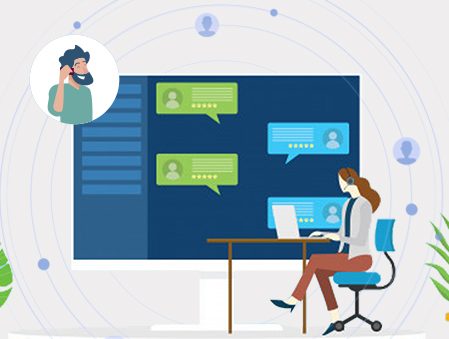 Going Beyond Customer Relations – Embracing Call Center 2.0
Effective customer support is critical for any enterprise to survive and grow. So it's natural for businesses to invest in state-of-the-art tools and solutions to keep their customers satisfied. This has sparked the proliferation of call center 2.0 as a smart alternative to on-premise contact centers.
Cloud Technology paving its way through Telecommunications
When it comes to building the next-gen contact centers, cloud telephony is the first thing that comes to mind. The technology is widespread and the most prominent in streamlining operations for telecom businesses. It brings a host of active sales features that empowers the agents with real-time information and consolidates the entire communication process to a single window. While other legacy phone systems like a landline, PBX, etc. are difficult to configure, a cloud-based system is straightforward to adopt.
According to a survey, 66% of global contact centers are not using the cloud; however, they plan to facilitate the shift soon. The market is expected to grow at 17.2% CAGR from 2018 to 2026.
Cloud-based Phone System Integrations 
Here are some valuable integration that a contact center 2.0 brings –
Email inbox
Sales automation tools
Web apps
CRM systems
Helpdesk software
eCommerce platforms
Online surveys
Quality assurance tools
Chat tools
It also offers a host of time-saving, quality assurance, and other business-critical integrations to ensure better productivity. Furthermore, cloud tools drastically reduce the demand for on-premise hardware assistance and bring flexible operational benefits to a contact center.
Related Links
The Rise of Digital Customer Service 
The upsurge in the e-commerce sector brought a lot of traditional sellers online. With on-premise call centers losing popularity, digital customer service and automated chatbots are extensively used by banking, finance, telecom, and other industries.
Typically in a 6-minute customer service call, 75% of the total call time was invested in doing manual work by the agent, and only 25% was deemed meaningful conversation. With the bulk of the customers embracing self-help and automated versions of customer service, contact centres, too, need to adapt to a smarter way to interact. To achieve the perfect customer service experience, businesses can quickly adopt the following methods to communicate –
· FAQs
· Interactive voice responses (IVR)
· Chatbots
Integrating CX with CRM 
Fruitful Customer Experience (CX) is the essence of effective sales and generating revenue. Modern-day contact centres are equipped with CX suit features to build a satisfied customer base. Integrating CRM with CX gives real-time customer data at the time of the incoming call. A CRM call center empowers the sales agents with disputed customer's history, ensuring better functionality, reducing call time, and uninterruptedly serving customers.
Benefits of adopting Cloud Telephony 
Cloud telephony drastically improves the accessibility of customer information to offer the following benefits –
Instantly collaboration on different accounts
Mobile-friendly
Call quality
Cost-effective maintenance of equipment
Easy to use dashboards design
Easy to set up and scale
Intuitive-users know what to do just by looking at the dashboard
Keeps you connected to all your tools
Tevatel is a prime provider of Cloud Telephony solutions. The company offers the best cloud center software solutions in India. Some of their notable cloud-based products are –