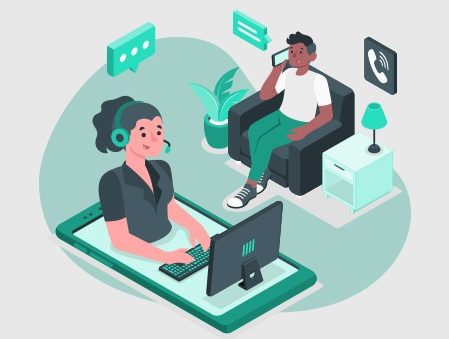 Cloud Telephony for the New-Age Call Center
Customer service and effective sales are imperative for any business to sustain growth. Hence, constantly interacting with the existing and potential customers is the most critical thing to do. While a lot of businesses rely on traditional sales and customer service activities, their proactive counterparts are opting for Cloud Telephony solutions.
Table of contents
Cloud Telephony platform employs cloud to offer voice services for businesses. These solutions enable the support teams to set up different voice messages for different customer needs. It drastically reduces the loopholes of the traditional call center and allows businesses to make or receive a large number of calls at one time.
As a positive effect, there are no sales leads that are not attended without the expense of harboring new infrastructure.
Let's see how Cloud Telephony Solutions optimize the new-age sales and support workforce.
Better Control
With Cloud Telephony solutions, you can take better control of the situation at all times. It gives you access to a host of features to monitor
the employee performance and keep track of all the leads.
Effective Scalability
With great flexibility in operations, Cloud Telephony allows enterprises to expand and downsize without the expense of improving physical
infrastructure.
Plan Calls and Messages
While targeting a certain group of customers or demography, agents can schedule bulk dissemination of a prerequisite message. This works great when an organization plans to announce something. This also reduces the number of support calls attended by the customer support focusing on more crucial issues.
Related Links
Benefits of Cloud-Based call centers over On-Premise systems
Set uptime
While onsite call centers demand several months off-site setups and huge investments in infrastructure, hardware, and licensing expenses, Cloud
system setup is just like taking a monthly subscription and installing the software on your computer or Smartphone.
Reliability
In a traditional onsite setting, the physical hardware is always prone to damage and can become obsolete and even incompatible to your software
updates. The cloud-based system becomes truly efficient in the same scenario. A cloud-based system is highly reliable as any notable error circling the call quality appears due to weak internet connectivity, hence the robustness of cloud systems remains intact.
IT Reliance
In an onsite setup, there is a high emphasis on harbouring an in-house IT team just to resolve general problems in day-to-day operations.
Maintaining this team can be a big expense depending upon the scale of your operations.Outsourcing the maintenance of your servers and hardware systems to a cloud provider will save your enterprise a lot of money while keeping your systems updated. The server support of your cloud telephony systems also remains offsite.
Privacy and Security
It is a common misconception in the industry that onsite setups are not prone to any security risks just because they are installed in the call
center itself. However, in reality, most breaches in an onsite setup can be narrowed down to human errors; sadly there is no technology for intentional malice. On the other hand, Cloud Telephony systems come with a package of updated security and privacy tools. It is an integral part of their business to stay ahead of any potential threats and keep your systems updated.
Integration
Integrating onsite setup with other services is possible but the amount of licensing, time, and effort involved is immense and the process can
be filled with challenges depending upon your resources in use. Its cloud counterpart is generally built keeping in mind that the system can be
integrated with other services. Hence, the software created can be customized and seamlessly integrated with other services like CRM, helpdesk tickets, call script generators, survey templates and more.
A Cloud Telephony System can be integrated with the following systems to build a cohesive communication process:
Email inbox
Sales automation tools
Web apps
CRM systems
Helpdesk software
eCommerce platforms
Online surveys
Quality assurance tools
Chat tools
Tevatel is a prime provider of Cloud Telephony solutions. The company offers the best cloud center software solutions in India. Some of their
notable cloud-based products are: