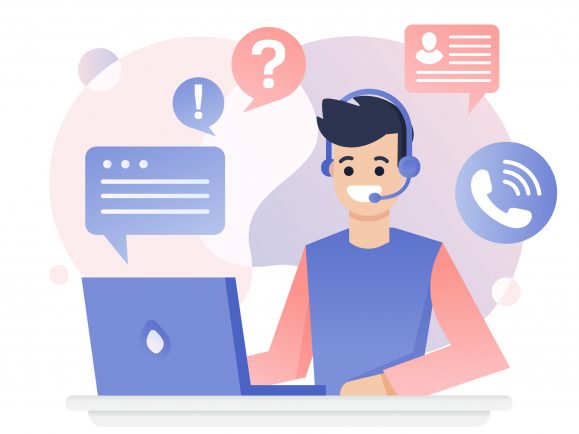 How Outbound Call Center Software Can Help Your Business
The outbound call center software has evolved into a game-changer for businesses looking to minimize their costs and increase their performance.
According to the report, the demand for outbound call center software is expected to increase by 40% in the next five years.
Outbound Call Center Software is an effective way of attracting clients. They are flexible enough to handle different business areas like marketing, sales, and customer service.
Problem: You have a great idea for reaching your customers, but you aren't really sure where to start. The reason is that your reach is becoming more and more ineffective as the time goes on. Maybe you need to experiment with something new in order to get them talking to you again.
Agitate: Outbound Call Center Software can help you handle difficult customer interactions that would have taken hours with a human agent. They follow your workflow to ensure the best experience for your customers, and make it fluid for everyone involved.
Solve: Outbound Call Center software is the solution to all your customer service problems. It can carry out prompts, track call sequences, and manage live chats. It also has all the features you need for a successful call center such as customizable call routing and detailed analytics reports. Start using Smart Outbound Call now!
Why Outbound Call Center Software is Useful for Your Business
There are many reasons why outbound call center software is beneficial to your business. It ensures that you have all your bases covered and can deal with more clients at a given time.
1) Outbound call center software saves money: The cost of hiring outbound telemarketers can be quite high. This is because they need to be trained on the tools they use and often need to travel from place to place for them. Many companies prefer using an outsourced company because it helps them save money and gives them more productivity in return.
2) Outbound call center software lowers overhead costs: While a telemarketing company might not have many staff members, the company has a high overhead cost due to the equipment needed, such as computers, phones, headsets, etc., which could add up over time
3) Outbound call center software is one of the most popular ways to improve customer service today. Here is what you should know about this type of software.
4) Any company can find a way to use these software programs for improving customer service. They can be used for keeping track of customer requests and improving sales and service too.
What Are the Benefits of Outsourced Customer Service?
Outsourced customer service is a growing trend in the current company environment. Companies outsourced their customer service to other companies that are more cost-effective and can handle a larger number of customers.
Outsourcing Customer Service – Why it works:
– You get the expertise of another company with a proven track record
– You get an increase in efficiency due to better knowledge of your business
– You don't have to deal with customer complaints
– You can focus on your business instead of dealing with customer services
How Do You Find a Reliable Outbound Call Center?
Finding a reliable outbound call center is difficult. You will need to do your research to find the right one for your company and what type of service they offer.
The first thing you should consider is whether you need a full-service call center or just an outbound one. If you want a full-service, then you'll need to consider overall quality and budget.
If you only want the outbound service, it's important that your agent has been through the appropriate training and certification programs before they can be utilized in your company's call center.
What Are the Requirements for Successful Implementations of Outbound Call Centers in Your Business?
Successful outbound call centers depend on the capacity of your business to produce the necessary leads. It is not just about having people that can sell well, but also have excellent customer service skills.
The following are what you need to consider when implementing an outbound call center in your business:
– What are the objectives of this implementation?
– How will you be handling the calls?
– What other approaches can you implement in order to increase sales?
These questions should help you determine whether or not your company is capable of a successful implementation of an outbound call center.
Related Links
Tevatel, Outbound call center software can help your business
Tevatel Outbound Call Center software allows you to automate the outbound call center process. It is a cloud-based software that makes outbound calls easier to accomplish for businesses.
Tevatel's outbound call center software is designed to automate tedious and time consuming tasks and reduce costs.
The tool allows agents to easily send out more calls per hour, which helps companies expand their customer reach and increase sales, while also improving efficiency of the business. It enables agents to take care of more calls than they could before with this extensive functionality that has been almost impossible before the introduction of this tool.
With Tevatel, you can make sure your company doesn't miss a single opportunity by eliminating potential leads from your list and giving them a call instead.
Many people are still confused about the best options for software that is used for customer service work. That's why it's important to let companies like ours take a look at your needs first.
Why choose Tevatel?
When you choose Tevatel, you're not just choosing a call center software solution, you're choosing the expertise of another company with a proven track record. Our experts know what it takes to build a successful call center business.
Increase your revenue by focusing on customer service rather than customer care
Tevatel Outbound Call Center Software is a Customer Service software that helps companies increase their revenue. It is designed in such a way that it can be easily integrated with most third-party customer service tools and provides all the necessary functionalities of these tools to its users.
The software is incredibly easy to use and comes with an intuitive interface, making it much easier for the users to provide their customers with the best service possible. The software also allows for seamless integration with other customer service software like Salesforce, which makes its use much more efficient.
Tevatel Outbound Call Center Software has been rated as one of the leading CRM systems in India.
Increases employee satisfaction and productivity
In the past, call center employees were often dissatisfied with the lack of control and flexibility they have with their jobs. Tevatel has created a solution that works towards alleviating this issue.
Call centers are notorious when it comes to the poor quality of work and employee dissatisfaction. This trend is largely due to the lack of control and flexibility they have on their jobs, which often leads to them feeling unmotivated and not being able to properly carry out their work. Tevatel has created a solution that gives call center workers greater control over their workloads while also reducing workloads for managers by 85%. This software solution allows them to focus on what they do best – customer service – while still getting help with other aspects of their job such as managing queues, cross-selling products, etc.
Reduce unwanted calls, drag down your team's morale
This software is a call center solution that helps companies reduce the number of unwanted calls to their outbound call centers by giving them a way to separate these calls from legitimate inbound requests.
While this software cannot eliminate all unwanted calls, it can definitely help companies save time and money.
Tevatel enables businesses to prioritize the high-value tasks that keep them productive and more profitable while automatically routing low-value tasks away from their phone lines.
Auto dialer Facility
The auto dialer is a device that automatically calls phone numbers to connect them with desired recipients. The device is usually installed in the customer experience solutions. This device recognizes the contact center solution and connects with desired recipients.
The auto dialer can be used for both inbound calls and outbound campaigns.
It is most often used to connect individuals that have called in through a customer call center or into a help desk, with a support team member. This helps ensure better customer experiences while removing the need for employees to manually make these connections by hand, which can lead to errors and time being wasted on tasks which are not their primary responsibility.
It also functions as an excellent way of managing customer relations, by enabling agents or representatives to efficiently manage their time and progress through conversations while.
Help maintain compliance with regulatory standards
Tevatel Outbound Call Center Software solution is a software solution designed to help call centers maintain compliance with regulatory standards. This includes customer service, sales, and human resources.
The software ensures that the staff members are following the guidelines and providing excellent customer service. It also ensures that all employees have the necessary skills for their position. The goal of this software is to provide a higher quality experience for customers and increase revenue in the process.
Immensely customizable
Our interface is incredibly customizable so that you can make your own decisions about how your call center operates day-to-day. Simply customize the system to fit your needs and make it work for you!
How to increase customer satisfaction
Meet Tevatel, the outbound call center software that transforms your customer experience by providing real-time customer support and social media integration.
Tevatel is a call cneter software that can be used for both inbound and outbound call centers. The software has many features that help to improve the customer experience.
Tevatel is designed in a way that it is easy to use for any level of employee – from new hires to managers. The interface and general functionality are simple and intuitive so staff can get up to speed quickly without any training or onboarding.
Tired of the same old methods?
Tevatel is an outbound call center software that's able to handle all your inbound and outbound calls, and provide a seamless CRM integration – all for a fraction of the cost!
No more waiting, only instant results!
Tevatel is equipped with auto dialing tools that'll make sure you're not wasting any time. With CRM integration, every message will be automatically logged as well as live social media monitoring.
Reach out to new customers on their terms!
Tevatel lets you reach your potential customers on their terms, whether it's on their website or phone! We make customer engagements a walk in the park.
The power of automation
Tevatel is an innovative customer experience contact center solution that combines an automated dialing solution with a variety of other features. Our solution automates your outbound call center process and makes it even more efficient.
Improve customer call experiences
Outbound Call Center Software is designed to remove the time-consuming burden on your staff and provide the best possible customer experience. It offers the perfect balance between automation and human interaction.
Put customers first
We offer integrations with popular CRM systems, which allow you to track customer interactions across all channels in real-time. It also enables teams to work together more efficiently — making sure customers are put first at all times.
Customize your experience
We offer a variety of outbound calling options, including live inbound calls and social media interactions, so you can easily customize your business to fit any need or industry.
We have a lot of features which provide many advantages for our customers. One good example is the Call Center 2.0 With Doocti which has excellent features and benefits.
Calls are routed with precision and expertise
Calls are routed with precision and expertise. With the help of the latest technology, call routing can be performed based on the location of a caller or customer, their current status, and other factors. This routing will ensure that customers are connected to the most appropriate representative for their needs.
Transferred to the right team to ensure that customer needs are met
In order to provide customers with the best experience, it is essential that customer service representatives are assigned to the right team. In this way, they can be trained on specific products and knowledgable about their company's offerings.
Call queues are built for easy use and efficiency
Call queues are an important piece of any customer service system. They provide a queue for incoming calls and help manage the inbound volume. Call queues allow agents to pick up the next incoming call after finishing a call, but it also provides features such as time limits and hold times for individual callers.
Automatically identify bottlenecks in processes
Bottlenecks are the bridge between a company's vision and the reality. They are often what make or break a company. These bottlenecks can be identified by monitoring performance indicators such as time, cost, and quality.
Maximize results through REST API
The REST API is an interface that helps developers build robust web applications. It enables the creation of a uniform set of building blocks for web services, which can be combined and re-used in a variety of combinations to satisfy virtually any interface need.