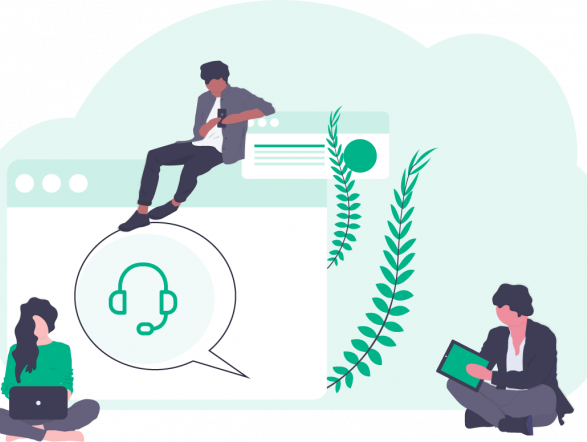 What is a Virtual Call Center? Features and Guidelines
Estimated reading time: 3 minutes
Technology has made an ocean of things simplified and done in a matter of seconds. So, how can a typical call center work left out of the sorted tech of the cloud call center?
The motto of every growing business is to provide its customers with efficient services with the use of a minimum of its best resources. Isn't it!
Thereby, today's customer relationship management companies are adopting the functionality of virtual call center software.
By structuring and operating the customer engagement businesses onto a virtual call center or call it a cloud call center, companies are making the right choice for their unique business ideas to profit.
Let's discuss the underlying features of a Virtual Call Center.
Customer Representatives are stationed everywhere
A virtual call center is similar to a digital office in which customer agents can be hired from different locations of a city or state which forms a functional company of its own.
To make sure this arrangement works, access to the virtual call center software is made available to every team member who is part of the process.
Related Links
Cost to Call Center Companies gets reduced
A cloud call center management can assure strict budgeted companies to swiftly carry on with its customer problem resolving work with its efficient outbound call center software.
Gives Timely Help via Virtual Assistants
A virtual call center unlocks a stream of automated virtual assistants or say, chat-bots that are smartly programmed to respond to the very urgent needs of the customers.
A Software Program comprising both Inbound and Outbound Functionalities
A virtual call center infuses within its system the tech of outbound call center software which operates its incoming and outgoing calls.
Virtual call center software enables its users to monitor the inbound and outbound calls, emails, chats, social media communications, etc on a single dashboard. It makes a lot easier to upload, fetch and act on customer-related information.
Customized Software to Support Specific Functions
The respective virtual call center software comes with the liberty of customizing it to a company's benefits.
In this, specific functions such as recording of calls, re-arranging calls to the same customer or transferring them to the right department for the quick resolution of the customer queries are made possible.
Integrate Virtual Chat Functionality and Task Management Options
Companies have full liberty to integrate some of the external customer relationship management tool features in their existing cloud call center model.
Special features such as 24/7 virtual chatting, use of CTI (Customer Telephony Integration) software and other daily work management tools can help in multiplying output generating efforts.
Virtual Call Center Adjustment makes it Easier for Management to Act
The respective cloud call center interface gives way for the higher management or the customer relationship supervisors to monitor every interchange of information between an agent and a customer. The reliable cloud database reflects how well the customer agents are performing and what's the parallel output is coming as a result.