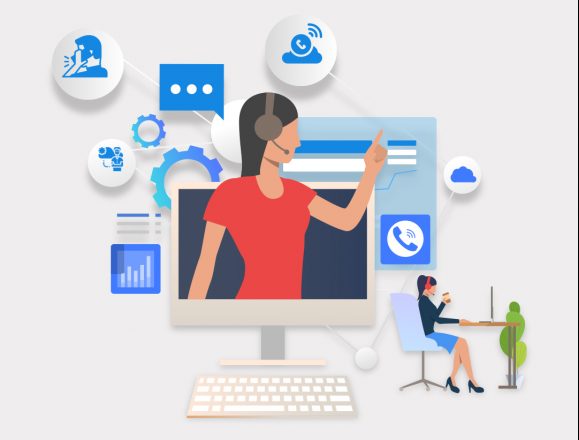 Improving Business Development through Cloud Telephony
As an enterprise transitions from mid-market to a larger scale, the influx of calls, emails, chats, etc. bombard the communication lines. To keep the customer satisfied, businesses establish dedicated customer support centres to effectively balance business operations and customer support.
Table of contents
For a long time, businesses capitalized on on-premise contact centres to accomplish the task; however, changing consumer behavior demands more strategic and intuitive solutions. Cloud Telephony is one solution that is actively making progress in customer support, research projects, post-sale follow-ups, and overall improving business development. Cloud technology is playing a substantial role in facilitating operations for various industries. However, for business development, it handles operations seamlessly and strategically. According to a survey, 66% of all global contact centres are not using the cloud; however, they plan to facilitate the shift in the future.
Cloud telephony integrates a series of valuable features, grants seamless and secured access to client information, and brings automated chat and sales tools while ensuring better collaboration with CRM Call centre and Helpdesk. Here are some valuable integrations that cloud brings to your sales teams –
AI and transcription
Data and reporting
HR and recruiting
Live chat
Payments and billing
Quality assurance
Sales automation
Surveys
SMS
It also offers a host of other time-saving and business-critical integration tools to ensure better productivity. Furthermore, cloud tools drastically reduce the demand for on-premise hardware assistance and bring flexible operational benefits to a contact centre.
Related Links
Benefits of using Cloud based Telephony for Modern-day Business 
Cloud-powered setups will be a prime tool for establishing contact centres in the future. They will transform the face of the industry and save dramatic capital and operational cost for businesses. Here is a detailed look into the benefits of cloud telephony for the modern-day business –
With no particular infrastructure required, cloud telephony can be deployed quickly and takes less transition time, unlike its on-premise counterpart, which involves enormous setup costs and time.
Cloud-based call centre software are highly flexible in their work. Agents can work from anywhere in the country; the fact allows businesses to function from anywhere and hire people from various parts of the country.
With the low deployment cost, cloud telephony is a great asset to medium and small scale companies. Organizations are not required to invest a fortune in buying an office or building essential infrastructure to commence operations.
Companies can downsize or upscale their operations as per different business scenarios. During crisis or growth phases, the scalability factor allows a contact centre to function as usual with well-contained challenges.
The capital investment involved in initiating a contact centre can be immense, and the ROI might take years to deliver the desired results. A virtual call centre brings down the investment required in setting up a traditional system down to a single software subscription.
A virtual agent can work from multiple locations and can be accessed at any time. This allows your business to set up offices in numerous locations and hire agents without investing a fortune.
Cloud solutions are highly flexible when it comes to their utility. The software is designed to best suit your business and industry. Any existing integration can be easily incorporated into cloud software. Yoga Teacher Training in nepal
One window to Inbound and Outbound Functionalities 
Agents can monitor inbound and outbound calls, chats, emails, etc. through a single dashboard. This keeps uniformity in operation and customer information stored and protected.
Tevatel is a prime provider of Cloud Telephony solutions. The company offers the best cloud center software solutions in India. Some of their notable cloud-based products are –