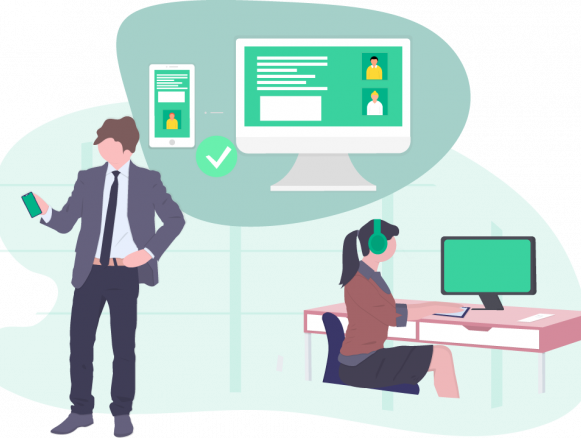 Cloud-based Call Center v/s Traditional Call Center
It seems almost unbelievable that how modern-day technology has made itself comfortable in our hectic businesses. Today is the time when in certain areas of the world, artificially intelligent robots are taking place of most human-driven work. So, why can't the present traditional call center phone systems is automated in such a manner which simplifies everything?
Well, that's entirely possible now. Want to know how?
There is a driving need to revamp traditional call centers and transform them into a cloud call center.
A contact center as a service or say Software as a service (Saas) is a cloud-driven database where all the important functioning of day-to-day typical call center service takes place in lesser time and greater efficiency than the traditional ones.
Intelligently-driven technology is the requirement of those businesses such as sales, customer relationship management, etc. which always have much to deliver on their platter with less resources and strict capital influx. There comes cloud call center technology as an efficient day saver.
To make the advantages of this latest technique crystal clear, let's compare the qualities of the cloud call center and traditional call center.
Related Links
Easily accessible for employees
A typical call center system when employs an asterisk call center software can be referred to as CRM (Customer Relationship Management) software, makes it quite handy for its company's employees to easily access it.
As, it's said, for any new technology to master your business, first, you have to gain mastery over the technique in front of you.
In a traditional contact center set-up, an elongated datasheet has to be maintained regularly. With the function of a cloud database instead, daily tasks could get much easier.
Customer's queries are automatically directed to the relevant department or agent
Whereas in a typical call center working, a customer is given a helpline contact address to refer to their large number of queries, which can often lead to communicating with a wrong agent about some different query.
In a cloud contact center set-up, all the problems or queries of customers/clients arising from a different medium of communications (call, messages, emails, and social media) can be routed to that specific department. This results in a quick and satisfying resolution of the concerned problems.
Keeps track record of every transaction between an agent and an end customer
It happens that most of the time in the case of call center phone systems, important interchange between an agent and an end customer can be missed out. But, it can't be possible with a cloud contact center set-up!
As, here, each transaction is recorded and assessed very efficiently. An employee can dig the cloud database and find any history of transactions with a specific user in seconds.
Provides Deepened Analytics
While imbibing the cloud contact center as a service, it gives preference to the supervisors or managers of a customer service company to examine the work happening under their noses.
A clear-cut analysis (via cloud-generated report) of the aggregated data of customers, agents timely approaching them, grievances redressal and a lot more covers how brilliantly your team of agents functioning in collision with the technology intact.